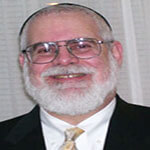 Harold Gans is a graduate of Yeshiva Gur Aryeh and received a Bachelor of Science degree Cum Laude with honors in mathematics from Brooklyn College. He received a Master of Arts degree in mathematics from the Belfer Graduate School of Science, Yeshiva University, where he was a National Science Foundation Fellow.

For 28 years, Mr. Gans was a Senior Cryptologic Mathematician with the National Security Agency, United States Department of Defense until his retirement in 1996. While there, he received the prestigious Meritorious Civilian Service Award for research, and was certified as a professional cryptanalyst.

Mr. Gans was elected a distinguished member of the Crypto-Mathematics Institute for his many contributions and publications in that field, and has taught mathematics, crypto-mathematics and computer science at the college level.

Mr. Gans is currently a Torah codes researcher and international lecturer and has lectured for Aish HaTorah, Gateways, Arachim, Encounter (UK), Jewish Learning Exchange (Ohr Samayach UK), Etz Chaim, and other organizations.

He has been interviewed live by CNN, CNN International, and CBS Cable News, and has been written about in several newspapers and news magazines including Time, Newsweek, USA Today, and The Los Angeles Times.

Mr. Gans has been a featured presenter in two television documentaries, and has lectured extensively throughout North America, Columbia, Israel, the United Kingdom, Australia, South Africa, and Hong Kong.

Mr. Gans resides in Baltimore Maryland with his wife, where he collaborates with an international team of researchers in studying the Torah codes. He is the author of A Primer on the Torah Codes Controversy for Laymen. He is a co-author of two technical papers on Torah codes, presented at a peer reviewed international scientific conference.